Ghoul
From Multiverses
Ghouls are a type of small Grakk, Daemons from the Daemoniverse.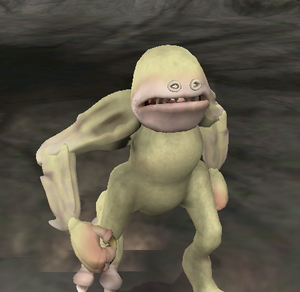 Physiology
Ghouls look similiar to humans, except with disfigured and crude features. They run on their hands and feet.
Diet
Ghouls eat flesh, ripping at it with small, pointed teeth.
Psychology
Whether Ghouls are even sapient is controversial. They seem only to feel a need to attack and rip apart non-daemons.
However, they do lay traps, and often burst from the ground before an unsuspecting foe.
Daemons
Gehennian, The Seven


Korgrath: Afrit, Praetus, Rider, Marid, Reaper, Tekija, Esumum, The Asura
Grakk: Shaytan, Djinn, Hellhound, Kappa, Ammut, Arachne, Ghoul, Goblin, Rakshasa, Tengu, Alma
Other: Zahhak, Cubi, Tarducus
Warbeasts: Titan, Hydra, Chimaera, Shadow Beast, Grendel
Individuals: Hectocapitus
The Seven: Bloodburn, Umbran, Death's Shadow, Ravana, Darkshriek, Arethusa, Bahamut, Soulbane (ex), Cthire (ex), Etherclaw (ex), Moloch (ex), Flamegift (ex)
Gehennians: Deadflame, Earthrender, Iceflame, Snakesick, Dusk, Skybreaker, Slitherfang, Anathema, Silvereye, Seth, Indigo, Horrorscorch
Korgrath Generals: Skayl, Argoth, Kumbhakarna
Deceased Individuals: Etherclaw, Cthire, Nightshadow, Moloch, Dreadhiss, Venomcry, Flamegift, Eklipse, Chaon

In Fiction: Story: Metamorphosis, Story: We're Off To Kill The Daemons, Story: Night's Children, Story: The Total of Nightmares, Story: Rennite Rebellion, Story: The Meaning of Fear, Story: The End of the Beginning, Story: Nemesis