Hellhound
From Multiverses
Hellhounds are a subspecies of the Grakk caste of Daemons.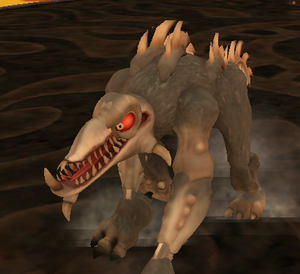 Physiology
Around three metres long, the hellhounds are rather dog-like. They have four, pawed feet, short tails, and a long snout.
They have an almost rotting appearance, and their vertebrae stick from their back as spikes.
Diet
Hellhounds eat flesh and blood. They often eat in the field of battle.
Psychology
Hellhounds travel and fight in packs, usually under the guidance of a higher-caste Daemon. Individually, they would rather run away.
Abilities
Hellhounds are very fast, and their claws carry lethal bacteria which cause the victim to rot visibly at the point of contact.
Occasionally, Riders will use them as mounts.
Daemons
Gehennian, The Seven


Korgrath: Afrit, Praetus, Rider, Marid, Reaper, Tekija, Esumum, The Asura
Grakk: Shaytan, Djinn, Hellhound, Kappa, Ammut, Arachne, Ghoul, Goblin, Rakshasa, Tengu, Alma
Other: Zahhak, Cubi, Tarducus
Warbeasts: Titan, Hydra, Chimaera, Shadow Beast, Grendel
Individuals: Hectocapitus
The Seven: Bloodburn, Umbran, Death's Shadow, Ravana, Darkshriek, Arethusa, Bahamut, Soulbane (ex), Cthire (ex), Etherclaw (ex), Moloch (ex), Flamegift (ex)
Gehennians: Deadflame, Earthrender, Iceflame, Snakesick, Dusk, Skybreaker, Slitherfang, Anathema, Silvereye, Seth, Indigo, Horrorscorch
Korgrath Generals: Skayl, Argoth, Kumbhakarna
Deceased Individuals: Etherclaw, Cthire, Nightshadow, Moloch, Dreadhiss, Venomcry, Flamegift, Eklipse, Chaon

In Fiction: Story: Metamorphosis, Story: We're Off To Kill The Daemons, Story: Night's Children, Story: The Total of Nightmares, Story: Rennite Rebellion, Story: The Meaning of Fear, Story: The End of the Beginning, Story: Nemesis