Katare
From Multiverses
The Katare are a type of being native to Abyss in Vesania.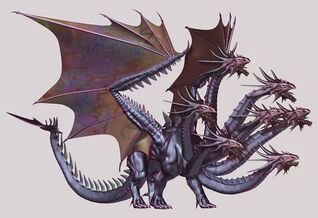 Physiology
Katare are seven-headed, reptilian beings with four legs and two non-functional wings. They reach lengths of 3km long, with a wingspan of up to 2.8km. Each mouth contains a powerful modulated laser and a mass driver, and the eyes are multi-spec telescopes.
Each leg ends in a paw with four claws, each of which is able to cut through diamond with ease.
The Katare's scales are repulsor-sheeted nanotechnological fullerene matrices, capable of regrowing rapidly if damaged. Each can also reshape, under the being's control, to form spikes or other textures.
Intelligence and Behaviour
Very little of Katare behaviour has been seen. They have been observed leaving Abyss and moving around Vesania, but not extensively.
They are aggressive, attacking objects out-of-place in Vesania, and have shown some command of tactics.