Kestron
From Multiverses
Kestrons are a type of small, burrowing Autobion from Inferno, though some were accidentally brought to Nether.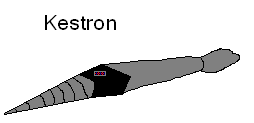 Design
Kestrons are very small, usually less than 10cm long.
They are elongated, and tipped with a high-RPM drill at one end, which under the microscope can be seen to be thousands of swirling nanobots. They have eight retractile legs, and so are able to move on land also.
They reproduce by splitting in half after a particularly rich meal.
Diet
Kestrons consume metal lodes and Autobion scrap.
Evolution
It is thought Kestrons have developed from the drill tips of the more primitive Veiled One mining equipment.