Lucifer Cannon
From Multiverses
The Lucifer Cannon is a Daemon weapon, usually carried on Daemon Warships.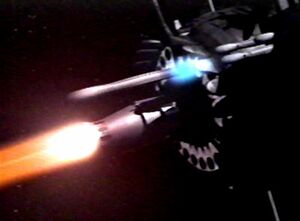 Design
This weapon has a large barrel, connected to a rotating magazine full of kinetic projectiles.
The 50kg projectiles are launched at 60% light speed through a coilgun, at a rate so fast that they all seem to merge into a long, flame-like trail.
The weapon itself is devastating, capable of ripping through ships and even mountains.
Usage
A weapon common on Deathships and Battlecruisers, the Lucifer Cannon is one of the most used Daemon armaments.
Daemon Technology
Daemon Warships: Daemon Deathship, Daemon Battlecruiser, Daemon Transport, Daemon Harvester, Harvenger


Weapons: Hellbeam, Lucifer Cannon, Firestorm Cannon, Rending Cannon, Fury Beam, Hellfire Bomb, Firespitter, Firegnasher, Conflagration Cannon, Consecro, Bad Neighbour, Energy Converter Weapon
Defenses: Blackmetal, Neutronium-metal, Flame Bubble, Hellfire Shield
Other: Gehennian Armoury, Daemon Fortress