Metus
From Multiverses
Metus is a terrestrial planet in the Domain of Fear, in Vesania.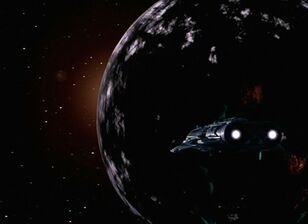 Characteristics
Metus is a SDI class world, kept habitable by the gravitic tidal effects.
Size
A super-Earth, Metus has a radius on 17171 miles, and a mass of 3.8 times Earth's.
Rotation
Metus does not orbit a star, but it takes 80 hours to spin once on its axis. Its tilt relative to the Domain's 'pole' is 23 degrees.
Surface
The surface of Metus is cold and barren, 60% ocean. It has ashen land and thick fog above. The temperature varies from -15 to 3 degrees C.
Atmosphere
Metus' atmosphere is 89% nitrogen and 10% oxygen, at a pressure of 6.78 bars. There is a thick layer of methane fog above this, which obscures the majority of the planet from space.
Because of the atmosphere's constant bombardment, a low groan can always be heard over the landscape. This is accompanied by strong infrasound.
Satellites
Metus does not have any satellites.
Biosphere
Metus is almost entirely covered by a black, photosynthesising organism. This organism is also capable of digesting organic matter, and will secrete digestive juices when organic material touches it.
There are animals here, which graze on the enormous mats. Some reach very large sizes. They, in turn, have predators. There are many scavengers, which spend their entire lives in the air.