Nether
From Multiverses
Nether is a terrestrial planet in the Daemoniverse.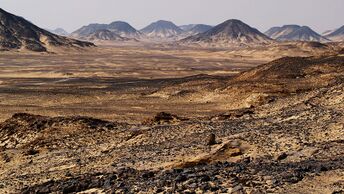 Characteristics
Size
Nether is 0.81 times Earth's radius, at 5142km. It has 0.52 times the mass and 0.99 times Earth density, so therefore a gravity of 0.8G. It has too small an iron core to produce an effective magnetic field.
Surface
Nether's surface is subject to constant high radiation. It has small quantities of stagnant water on the surface, but is otherwise barren, with sandy plains and mountains. The average temperature is a comfortable 21°, but it fluctuates from -80 to 100°C.
There is much debris on the ground, including a Ravager corpse.
Atmosphere
Nether's atmosphere is very thin, with only a half of Earth's pressure. There is little oxygen, so no ozone layer to protect against radiation.
Underground
The life on Nether is all underground. In the thick crust is an expansive system of caves, up to 2km tall, lit in a dull twilight by bioluminescent fungi on the ceiling.
Chemosynthetic 'petrified trees' form forests, between which Daemons and other creatures live.
Inhabitants
Ruled over by the Gehennian Earthrender, Nether's caverns contain many tens of thousands of Daemons. Kestrons have been accidentally introduced.
The few remaining native lifeforms include Trellbats and Tuskvarks.
Cave grakk live in large numbers here.