Nithling
From Multiverses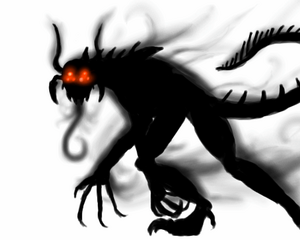 Nithlings are creatures formed of Nith from Nithspace in the Vesania Universe.
Physiology
Nithlings are all based on Nith.
They have no need to eat, drink, or respire. They are immune to heat or most damage, but can cause extensive damage to matter. A dense projectile of matter destroys them, however, such as a powerful railgun shot.
Due to their nature, any being looking at them directly is annihilated. Miners will record their actions and play them back one second behind, despite the difficulties this produces.
Varieties
There are many kinds of Nithling. They include: