Paragon Weapons Systems
From Multiverses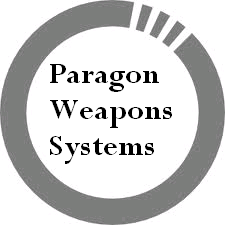 Paragon Weapons Systems (PWS) is a corporation from the Viperius Galaxy.
Services
The company sells weapons, vehicles, and defenses.
Some of the most famous products are the 'Aquila' battle cruiser, 'Retriever' dropship, and the 'Javelin' Gunship, in common use with mercenaries and colonial governments.
They also make the Gladius assault rifle, Stonecutter SMG and the Stalker guided missile launcher. 'Oriscale' body armour is their design.
Most Skarg weapons are variations of their designs.
Organisation
The CEO of this company is currently unidentified. Administrators come from many races.
Products
PWS produces many items for sale, mainly for governments and large corporations. However, they have public outlets on worlds where it is permitted.
Spaceships
Vehicles
Spear Gunship
Raptor Jet Fighter (VTOL)
Strider Walking Vehicle
Weapons
There are many dozens of weapon models produced by PWS. Around half are of their own design.
Melee Weapons
Various combat knives
Heat sword
Electrosword
Pistols
Assault Rifles
Battle Rifles
Fang Battle Rifle
Claw Battle Rifle
Sniper Rifles
Shotguns
Biter Shotgun
Crusher Shotgun
Carbines
Rapier Carbine
Dirk Carbine
SMGs
MGs
Anger Light Machine Gun
Hatred Machine Gun
Fury Heavy Machine Gun
Rage Chaingun
Beam Weapons
Incinerators
Light incinerator
Medium incinerator
Heavy incinerator
Heavy Weapons
Siege Rocket Launcher
Shotrocket Launcher
Grenades
Maelstrom Incendiary Grenade
Firestorm Napalm Grenade
Eruption HE Grenade
Avalanche Frag Grenade
Landslide Frag Grenade
Gale Stun Grenade
Crosswind Stun Grenade
Grenade Launchers
Ogre Grenade Launcher
Oni Grenade Launcher
Hamarr Grenade Launcher (fitting)
Troll Rapid Grenade Launcher
Armour
Cee-plate Body Armour
Roadblock Reactive Body Armour
Lightskin Body Armour