Flesh Thief
From Multiverses
Flesh Thief

A Salsene-based Flesh Thief

Homeworld:

Unknown

Height:

Variable

Diet:

Omnivorous

Intelligence:

Sapient

Technology:

Reasonably advanced (Class IX)
Flesh Thieves are a type of sapient creature recently arrived in the Viperius Galaxy.
Physiology
A Flesh Thief, when born, is little more than a skull, spine and a brain.
However, as they grow, their parents attach the flesh from other creatures to their bodies, choosing the best musculature and bone, the right limbs for the job. They layer on more and more tissue as the creature grows, and determine the number of limbs, other appendages, and so on.
They can do this due to extreme cellular adaptability and proliferation. The blood vessels, nervous tissue, and organs are supplanted by Flesh Thief cells which take the genes necessary for function.
The mass of Flesh Thieves is basically the same for all.
Reproduction
Flesh Thieves are sexual animals, and males impregnate the females with sperm. The Flesh Thief offspring are born vivipariously, in batches of up to six.
Diet
Flesh Thieves are omnivores, needing meat, plants, and other such things. They are grown hydroponically on spaceships. They also eat waste tissue.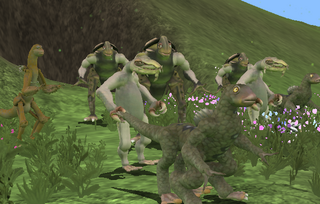 Intelligence and Society
Flesh Thieves have become sapient, and are capable of all the abilities involved. They can choose tissue which will be right for the future, not just the present, and select worlds to set down upon.
Culture
Flesh Thieves are generous, altruistic, helpful, and friendly to others of their kind. To other species, they are xenophobic, manipulative, and arrogant.
They live in tribe-like extended family groups on their spaceships, but when two ships meet they often make good friends. Members from each group are often traded, and treated like family by their new friends. Often, they travel in fleets of dozens of ships.
Harvest
The harvest is the occasion when Flesh Thieves descend on a planet or spaceship and capture all the inhabitants, then use their tissue to allow the growth of their young.
Technology
An advanced species, Flesh Thieves have Hyperdrive technology, advanced weaponry, and other such sciences.
Spaceships
Flesh Thief spaceships are often large and with adaptations to allow Harvesting. They have wings for jet travel within atmospheres, and these jets can turn downwards to allow hovering.
The ship can fire tranquilliser flechettes from a cannon, and it has a massive taser-like weapon to catch spaceships, stunning all occupants if unprotected. They also have true weapons, like high explosive guided missiles and cutting lasers.
Relations with other races
Flesh Thief interactions are driven by the need to Harvest, so they are always aggressive to other species.
Flesh Thieves attempted to abduct a group of Aians researching in the Viperius Galaxy. Aians now destroy Flesh Thieves on sight.
Flesh Thieves have abducted Lutrians in the past. The Lutrians have declared war against them.
After several Harvestings of reconnaissance or research teams, the Zyrothans have declared war against the Flesh Thieves.
Skarg are often sent to fight Flesh Thieves, for example while in the Iron Skulls.
Vrah find Flesh Thieves disgusting and fight against them.
Salsene colonies have been harvested by Flesh Thieves several times, leading to a small-scale war against the race. The Salsene Grand Fleet sometimes hires bounty hunters and privateers to hunt them down.
In Fiction