Grendel
From Multiverses
Grendels are giant, armoured Warbeasts used by Daemons as tanks. They are very large, only slightly smaller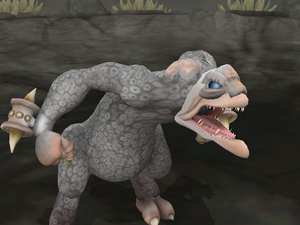 than Gehennians.
Physiology
Grendels are giant, troll-like creatures, which have huge gaping mouths full of razor sharp teeth.
They have extremely durable and powerful skeletal and muscular systems, as well as an augmented respiratory system. This allows them to survive despite their size.
Usage
Grendels have a wide variety of possible uses, such as tank or armoured transport vehicle.
Grendels are the least sapient of all Daemons, only having the intelligence level of a large animal.
Daemons
Gehennian, The Seven


Korgrath: Afrit, Praetus, Rider, Marid, Reaper, Tekija, Esumum, The Asura
Grakk: Shaytan, Djinn, Hellhound, Kappa, Ammut, Arachne, Ghoul, Goblin, Rakshasa, Tengu, Alma
Other: Zahhak, Cubi, Tarducus
Warbeasts: Titan, Hydra, Chimaera, Shadow Beast, Grendel
Individuals: Hectocapitus
The Seven: Bloodburn, Umbran, Death's Shadow, Ravana, Darkshriek, Arethusa, Bahamut, Soulbane (ex), Cthire (ex), Etherclaw (ex), Moloch (ex), Flamegift (ex)
Gehennians: Deadflame, Earthrender, Iceflame, Snakesick, Dusk, Skybreaker, Slitherfang, Anathema, Silvereye, Seth, Indigo, Horrorscorch
Korgrath Generals: Skayl, Argoth, Kumbhakarna
Deceased Individuals: Etherclaw, Cthire, Nightshadow, Moloch, Dreadhiss, Venomcry, Flamegift, Eklipse, Chaon

In Fiction: Story: Metamorphosis, Story: We're Off To Kill The Daemons, Story: Night's Children, Story: The Total of Nightmares, Story: Rennite Rebellion, Story: The Meaning of Fear, Story: The End of the Beginning, Story: Nemesis