Afrit
From Multiverses
Afrit are a type of Korgrath, a caste of Daemons.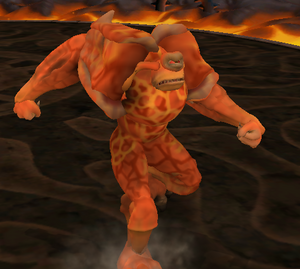 Physiology
Afrit have small heads, and wingless bodies. Their musculature is enhanced, and their skin reinforced with plates, although cracks between these show. They are stronger and faster than most other Korgrath, and also more capable with technology.
Their skin is often orange or yellow.
Intelligence
Quite intelligent, Afrit are good engineers and architects. However, they are psychologically unstable, so designs are often warped or have unnecessary add-ons.
Position
Afrit can lead Grakk, but more often they control Warbeasts or Daemon Warships.
Daemons
Gehennian, The Seven


Korgrath: Afrit, Praetus, Rider, Marid, Reaper, Tekija, Esumum, The Asura
Grakk: Shaytan, Djinn, Hellhound, Kappa, Ammut, Arachne, Ghoul, Goblin, Rakshasa, Tengu, Alma
Other: Zahhak, Cubi, Tarducus
Warbeasts: Titan, Hydra, Chimaera, Shadow Beast, Grendel
Individuals: Hectocapitus
The Seven: Bloodburn, Umbran, Death's Shadow, Ravana, Darkshriek, Arethusa, Bahamut, Soulbane (ex), Cthire (ex), Etherclaw (ex), Moloch (ex), Flamegift (ex)
Gehennians: Deadflame, Earthrender, Iceflame, Snakesick, Dusk, Skybreaker, Slitherfang, Anathema, Silvereye, Seth, Indigo, Horrorscorch
Korgrath Generals: Skayl, Argoth, Kumbhakarna
Deceased Individuals: Etherclaw, Cthire, Nightshadow, Moloch, Dreadhiss, Venomcry, Flamegift, Eklipse, Chaon

In Fiction: Story: Metamorphosis, Story: We're Off To Kill The Daemons, Story: Night's Children, Story: The Total of Nightmares, Story: Rennite Rebellion, Story: The Meaning of Fear, Story: The End of the Beginning, Story: Nemesis