Venomcry
From Multiverses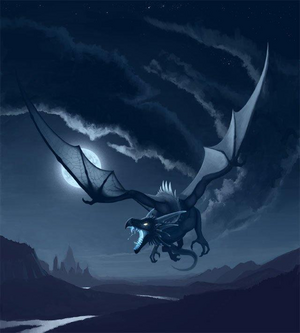 Venomcry was a female Gehennian. She disappeared through a Dimensional Rift.
Physiology
Venomcry was like others of her kind, except that she had a bluish tint to her skin.
She had her plasma beam upgraded to be extremely long-range and precise. It ended up being one of the deadliest and most efficient Gehennian weapons in the Daemoniverse.
History
Venomcry was a powerful, well-respected Gehennian. However, a Dimensional Rift opened near her fortress, and she was never seen again. She is presumed deceased, and her fortress has since been demolished to make way for newer developments.
Daemons
Gehennian, The Seven


Korgrath: Afrit, Praetus, Rider, Marid, Reaper, Tekija, Esumum, The Asura
Grakk: Shaytan, Djinn, Hellhound, Kappa, Ammut, Arachne, Ghoul, Goblin, Rakshasa, Tengu, Alma
Other: Zahhak, Cubi, Tarducus
Warbeasts: Titan, Hydra, Chimaera, Shadow Beast, Grendel
Individuals: Hectocapitus
The Seven: Bloodburn, Umbran, Death's Shadow, Ravana, Darkshriek, Arethusa, Bahamut, Soulbane (ex), Cthire (ex), Etherclaw (ex), Moloch (ex), Flamegift (ex)
Gehennians: Deadflame, Earthrender, Iceflame, Snakesick, Dusk, Skybreaker, Slitherfang, Anathema, Silvereye, Seth, Indigo, Horrorscorch
Korgrath Generals: Skayl, Argoth, Kumbhakarna
Deceased Individuals: Etherclaw, Cthire, Nightshadow, Moloch, Dreadhiss, Venomcry, Flamegift, Eklipse, Chaon

In Fiction: Story: Metamorphosis, Story: We're Off To Kill The Daemons, Story: Night's Children, Story: The Total of Nightmares, Story: Rennite Rebellion, Story: The Meaning of Fear, Story: The End of the Beginning, Story: Nemesis