Seth
From Multiverses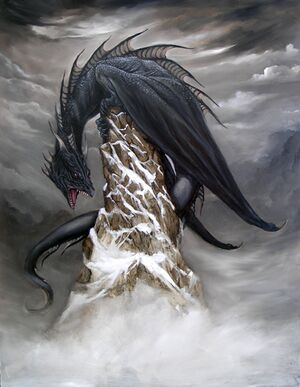 Seth is a powerful Gehennian.
Physiology
Seth appears as an immense, pitch black Gehennian. His claws are particularly large.
He was reproduced parthenogenically by Hectocapitus.
Psychology
Seth is one of the most secretive of all Daemons, for most of the time he is completely out of sight. Only rarely does he appear. When he does, however, he will unleash great attacks, usually against the Angeli and the Typhons. Attacks are almost always 100% successful.
History
Seth was born somewhere around 3 million AM.
Daemons
Gehennian, The Seven


Korgrath: Afrit, Praetus, Rider, Marid, Reaper, Tekija, Esumum, The Asura
Grakk: Shaytan, Djinn, Hellhound, Kappa, Ammut, Arachne, Ghoul, Goblin, Rakshasa, Tengu, Alma
Other: Zahhak, Cubi, Tarducus
Warbeasts: Titan, Hydra, Chimaera, Shadow Beast, Grendel
Individuals: Hectocapitus
The Seven: Bloodburn, Umbran, Death's Shadow, Ravana, Darkshriek, Arethusa, Bahamut, Soulbane (ex), Cthire (ex), Etherclaw (ex), Moloch (ex), Flamegift (ex)
Gehennians: Deadflame, Earthrender, Iceflame, Snakesick, Dusk, Skybreaker, Slitherfang, Anathema, Silvereye, Seth, Indigo, Horrorscorch
Korgrath Generals: Skayl, Argoth, Kumbhakarna
Deceased Individuals: Etherclaw, Cthire, Nightshadow, Moloch, Dreadhiss, Venomcry, Flamegift, Eklipse, Chaon

In Fiction: Story: Metamorphosis, Story: We're Off To Kill The Daemons, Story: Night's Children, Story: The Total of Nightmares, Story: Rennite Rebellion, Story: The Meaning of Fear, Story: The End of the Beginning, Story: Nemesis